Place a reserve
Reserve items from 👉the catalogue:

You can reserve items from any 👉 SMART Library.

Please note: The only way to access the SMART catalogue is to do your search in 👉 Porirua Library's catalogue first.
If you have an older Porirua Library card, you can reserve items from Porirua Library only.

There is no charge for making a reservation, or getting it delivered to your local library.
Normal lending fees apply to some types of items (e.g. DVDs). They can vary depending on which library you're borrowing from. Each library's charges can be found on their website or ask at your local library branch.
Collecting your reserve
You choose which branch you want to collect your reservations from. 
Magazines can be reserved, but need to be collected from the Library that has the magazine.

We'll let you know by text or email when your reserve is ready to collect.  Reserved magazines are held for seven days, and other items for 10 days.

If you have any queries, please email 👉 porirualibrary@poriruacity.govt.nz or phone (04) 237 1533.

Did you know?
All Items can be returned to any 👉 SMART Library free of charge, regardless of what library they come from.
Because of transit times between SMART libraries, it is preferred that magazines be returned to the library they are borrowed from. This keep all magazines up to date and current.
Older cards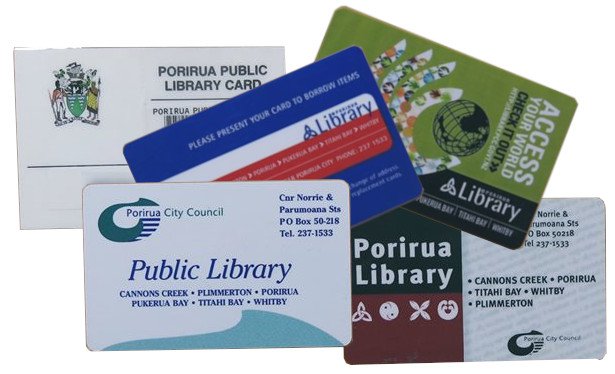 Do you have one of these beauties sitting in your wallet?
If you don't want to reserve items from any of the other libraries in the SMART library network, then your old  card is fine. Do nothing, it'll keep issuing books from Porirua Libraries.
If you would like to borrow things from the other 👉 SMART libraries then you need to get a shiny new Porirua Library card.
To do this, just head up to the desk on your next library visit, and allow a few minutes for us to switch your account over, and give you your new card.